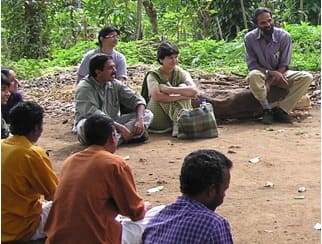 ICCAs — territories of life
For the ICCA Consortium, the term 'ICCAs—territories of life' stands for "territories and areas governed, managed and conserved by custodian indigenous peoples and local communities".[1]
This refers to an age-old, widespread, diverse and dynamic phenomenon that has many different manifestations and names around the world. Examples include: wilayah adat, kaw, himas, agdals, tagal, yerli qorukh, faritra ifampivelomana, oran, ili, asang, rumak, qoroq, qoroq-e bumi, sapari, baldíos, crofts, regole, aschii… In diverse political contexts, they may be referred to as 'commons' and 'greens', ancestral domains, 'country', community conserved areas, territorios autonomos comunitarios, comunales, territorios de vida, territorios del buen vivir, sacred natural sites, locally managed marine areas and fishing grounds, and many more.
For the custodians of such 'territories of life', the connection between their community and territory is much richer than any single word or phrase can express. It is a bond of livelihood, energy and health. It is a source of identity and culture, autonomy and freedom. It is a link among generations, preserving memories from the past and connecting to the desired future. It is the ground on which communities learn, identify values and develop relationships and self-rule. For many, it is also a connection between visible and invisible realities, material and spiritual wealth. With territory and nature go community life and dignity, and self-determination as peoples.
Territories of life are at the core of the purpose of the ICCA Consortium and its Members. Drawing a synthesis from their worldwide characteristics and existing analyses,[2] the Consortium has adopted a working definition:
An ICCA—territory of life exists wherever:
There is a close and deep connection between a territory or area and its custodian indigenous people or local community. This relationship is usually embedded in history, social and cultural identity, spirituality and/or people's reliance on the territory for their material and non-material wellbeing.[3]
The custodian people or community makes and enforces[4] (alone or together with other actors) decisions and rules about the territory or area through a functioning #governance institution (which may or may not be recognised by outsiders or by statutory law of the relevant country).
The governance decisions and rules[5] (e.g., regarding access to, and use of, land, water, biodiversity and other gifts of nature)[6] and the management efforts of the concerned people or community overall positively contribute to the #conservation of nature (i.e., the preservation, sustainable use and restoration, as appropriate, of ecosystems, habitats, species, natural resources, landscapes and seascapes),[7] as well as to community livelihoods and wellbeing.
Territories of life across diverse contexts and regions demonstrate these three key characteristics to varying degrees. Their community custodians have called attention to their importance, wishing for them to be maintained and strengthened.
Defined ICCAs—territories of life fulfil these three characteristics, while
Disrupted ICCAs—territories of life are known to have fulfilled them in the past but are unable to do so today because of historical processes and disturbances that can still be reversed or counteracted.
Desired ICCAs—territories of life have the potential of developing the three characteristics, and their custodian communities are ready to work for this.
Examples of defined, disrupted and desired ICCAs—territories of life
---
Key references:
Borrini-Feyerabend et al., 2010 (reprinted 2012); Kothari et al., 2012; Borrini-Feyerabend and Campese, 2017; Farvar et al.
See also: ICCA Consortium web site; ICCAs and the ICCAs Consortium—Conserving the Territories of Life – short movie; Emblematic ICCAs descriptions from the ICCA Website; ICCA Registry.
---
[2] These include Borrini-Feyerabend et al., 2004a; 2010; IUCN, 2004; Kothari et al., 2012.
[3] The strong relationship may refer to the entire territory or only special places within it.
[4] Either directly or through entrusted parties (#Governance).
[5] Decisions and rules may or may not be written, and at times simply merge with what is culturally perceived as proper and acceptable behaviour.
[6] Throughout this lexicon, the term 'gifts of nature' is used in place of 'natural resources' to describe both living and non-living natural elements whose values are perceived beyond the purely economic.
[7] Importantly, conservation is achieved as a result of management practices… but may not reflect a stated objective of the custodians.
[8] Corntassel notes that focusing primarily on self-recognition allows communities to bypass the reproduction of colonial, racist and patriarchal practices embedded in a 'politics of recognition' by settler states (see Coulthard, 2014).
[9] Borrini-Feyerabend et al., 2010. See also #Appropriate recognition.
[10] Several territories of life are trans-boundary, and particularly so those of mobile indigenous peoples.
[11] An important judgement of the Supreme Court of India has recently concerned the recognition of orans in Rajasthan.
[12] #Conserved areas. See also UNEP-WCMC, 2016.
[13] Asatrizy and Riascos de la Peña, 2008.
[14] One of the principles identified by E. Ostrom as needed for well-functioning commons. See also Robinson et al., 2018; #Governance Institutions.
[15] Bassi 2002; Bassi and Tache, 2011.
[16] See the 'Yaaballo Statement on the Borana Conserved Landscape' and the attempt to establish the Mursi-Bodi Community Conservancy http://coolground.org/?page_id=163.
[17] Hoole and Berkes, 2009; Borrini-Feyerabend et al., 2010.
[18] The recognition refers to a Community Conserved Area (Aire du Patrimoine Communautaire) established within the fluvial public domain.
[19] Cidrás et al., 2018; Serrano et al., 2018.
[20] John Stephen Okuta, quoted in Borrini-Feyerabend et al., 2010, page 55.
[21] Aman Singh, personal communication, 2019.